Glory ,Glory , Hallelujah: Finally the people's cries have been heard in Wisconsin. To hell with you Congressional Democrats who ran like spoiled children. then cry foul when your dirty ,cowardly,deeds are outflanked. We know fair ,and there is no fair play in these unions
Did you think the good people of Wisconsin would lay down and let you walk on them forever?
I want you people to know something important here,about the thiefs ,and thugs that are Obama ,Pelosi,and Reid.
THE STIMULUS BILL ........A COOL 780 BILLION DOLLARS, SIGNED BY OBAMA,WAS MOSTLY PAYOUTS TO THE STATES.

THE COLD FACT I WANT YOU TO UNDERSTAND IS THAT THE GOVERNMENT GAVE WISCONSIN 701 MILLION DOLLARS. OUT OF THAT MONEY ,
680 MILLION OF IT WAS SPENT ON PUBLIC SECTOR UNION WORKERS !!!
Who was taken care of? Who cries the loudest? Who beats their little tom toms? You know damn well who !
Take back Democracy ?
Like hell ,you have stolen the people's state for the last time .
You will have your say . Fair ,and balanced. But no longer shall you lord over the people of Wisconsin.
Even as your Communist,socialist ,brothers ,bang on their little tom toms.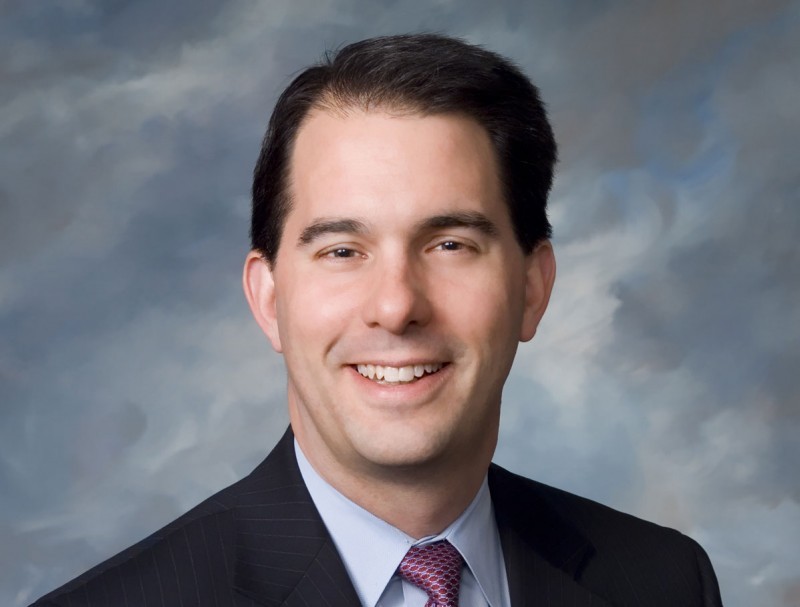 GOVERNOR ,SCOTT WALKER
Let's sing the praises of theses few good men who have given the people of Wisconsin back,control of their communities ,and their lives. I salute you
SCOTT WALKER
. They talk highly,of fatboy ,Chris Christe,but he is merely another blowhardt, and he can't hold a candle to Walkers's determination to do the right thing.
THIS WAS NEVER ABOUT CHILDREN ,OR MONEY ,OR VIAGRA. THIS IS ABOUT THE BULLYING ,THE POWER DRUNK UNION, AND THEIR THREAT OF VIOLENCE AND SHUTDOWN, IF THE PEOPLE'S WILL, DOES NOT COINCIDE WITH THE UNION.
IT'S BULLSHIT,IT'S CRONYISM, IT'S BUYING FAVORS, IT'S MANIPULATION, IT'S TAKING GOOD PEOPLE'S MONEY AND PUMPING IT INTO CAMPAIGNS OF MEN OF WHO SELL US OUT FOR A POUND
OF SILVER. IT'S WRONG, AND WHAT'S WORSE ,IT'S UNSUSTAINABLE... AND THANK GOD SOMEBODY SEES THAT..
I have always said that i would work for a dollar a day. If i could live a decent life on that much. Can't you people see that for every perk,every Penny,you get ,they take ten for themselves,and prices rise, and we are held in the same place. Just where they want us. Forever ,and ever. Without end.....I don't need, or want , my fellow citizens to pay for things like Viagra,and spa visits.
Let them bang their drums of Communism, of Socialism, let them howl, for the shame is on them ,not on the people who have cried out for mercy ,and finally been given some relief. Relief from this vicious "circle jerk" of power lust. The public union.
Some examples that may help you understand the wickedness of the public union:
The vice governor of Wisconsin tells us:
1)
AFSCME: AMERICAN FEDERATION OF STATE, COUNTY ,AND MUNICIPAL EMPLOYEES

.
,Grieving extra snow plow drivers in Racine ,WI. . This year. It was not about laying off union workers ,it was about clearing snow,after a big storm, but the union feels that their will should lord over the people. No matter who it hurts.
2) In Wausau, WI.: the union grieved an 86 year old crossing guard . They demand she be replaced with a union worker.
3)Racine: again, they grieved the fact that the state was using inmates to cut some grass next to the freeway. Just to save a little money ,for the people.
These things have nothing to do with fairness, they are piggery ,at the very root. As the union boss gathers the power of life ,and death ,in your state. A man ,who contributes nothing, but wants to control everything.
---------------------------------------------------------------------------------------------------------
Point two today:
What a sad son of a bitch ,is Harry Reid.
We are in a fiscal hole miles ,and miles deep, yet Harry Reid is worried about the federal funding of things like the
"COWBOY POETRY FESTIVAL
" This sounds like a skit from some 1984 play. But it is not. This man ,does not see that we are trillions of dollars in debt, and the "cowboy poetry festival" must sink or learn to swim on it's own merits ,and private donations. Not on the back of the American taxpayer. This man is delusional. There can be no other conclusion.
Harry Reid says: The republicans want to make mean-spirited cuts:
Is this man bordering on "dementia"? In a year when we're running a 1.6 trillion dollar deficit:
"The

mean-spirited bill, H.R. 1

, eliminates National Public Broadcasting," said Reid in a floor speech. "It eliminates the National Endowment of the Humanities, National Endowment of the Arts. These programs create jobs. The National Endowment of the Humanities is the reason we have in northern Nevada every January a cowboy poetry festival. Had that program not been around,

the tens of thousands of people who come there every year would not exist"
Who the hell do these people think they are? You don't have to take this America. These are elite bums,who need to be rejected.
I have an idea for you Harry, old boy, get Wayne Newton to sponsor your Cowboy poetry festival.
Yeah, that makes more sense.
-__________________________________________________________________________
Point three today:
A LARGE DOSE OF HISTORY
: from judge Napolitano. I agree.
When we were colonists of the king of England, our economy here was doing quite well. Many entrepreneurs came here to start business free from the regulations, and taxes that were imposed upon them, by the king.
Soon the king realized how well our fore fathers were doing ,and so Parliament came a calling . For taxes ,and regulations. Eventually the men in England were telling the businessmen in the colonies how to do business, and with whom. Soon the colonists got tired of these intrusions, and the battle cry was " Taxation,without representation is tyranny"
So we fought a revolution, we wrote a constitution. In it ,the framers put in safe guards so that the Government would never be able to do again, what the British had done to them.
For example ,British soldiers had been able to write their own search warrants. The framers prohibited that in the 4TH AMENDMENT to the CONSTITUTION..Which states that only judges can issue search warrants ,and can only do so ,when the government shows evidence of crime. (That has been usurped by the patriot act.)
Ask yourself why ,in some states ,almost a dollar goes to taxes on every gallon of gas you buy. The 5th amendment prohibits the government from taking from us without paying for it. That is exactly what the Parliament ,and king had done. You are taxed ,today,from the time you get up, until the time you go to bed. (utilty tax, subway tax,parking tax,food tax,gas tax..etc.)
The constitution was written so that the government would respect every man's individual civil liberty.
Throughout history the government has openly mocked the constitution.
Lincoln proclaimed he could violate parts of it ,to preserve other parts.
Woodrow Wilson thought it gave him the power to tell people how to live.
F.D.R wrote laws himself ,and actually enforced them. even though the congress is the only one permitted to write laws.

YESTERDAY OBAMA SIGNED AN EXECUTIVE ORDER CLAIMING THE RIGHT TO INCARCERATE PERSONS IN THE GUANTANAMO BAY MILITARY PRISON FOR THE DURATION OF THEIR NATURAL LIVES, EVEN IF THEY WERE ACQUITTED OF A CRIME.

I AM DA JUDGE

PRESIDENT OBAMA HAS PROCLAIMED HIS RIGHT TO PUNISH PEOPLE ,EVEN IF A JURY FINDS THEM "NOT GUILTY"
No western government has ever before in history ,claimed this power. Not the king of England ,not Stalin, Not Hitler..............................NOBODY.
This turns the Constitution on it's head .
Why should you care about these ruffians ,and freaks?
Because one day Mr. Obama , and his kind may come for you.
SARAH PALIN FOR PRESIDENT....2012.
THERE IS NO OTHER ,WHO WILL SLAM THE DOOR ON THIS CORRUPT GOVERNMENT

....
___________________________________________________